Does Google protect your Information?
Did you know that every minute people upload 500 hours of video on YouTube, post 3.3 million Facebook posts and perform more than 3.8 million Google searches. But have you ever wondered what actually happens to all those posts, tweets, and videos you post on a daily basis?
One of the biggest questions is – Can you ever remove something from the internet? This post will attempt to answer some of these questions as best as possible. Did you know that roughly 9% of adults in the U.S. want to have complete control of their online data.
Hypothetically, if you'd try to delete every single piece of information about you permanently – including text posts, pictures, and videos – you'd have to contact every individual site owner that has your information and ask them to delete it (medium dot com).
Have you ever wondered what happens to your personal information once it goes online? If that's the case, this post may ease your mind a bit. Google has opened the gates and they will allow you to remove certain information, if not all of it.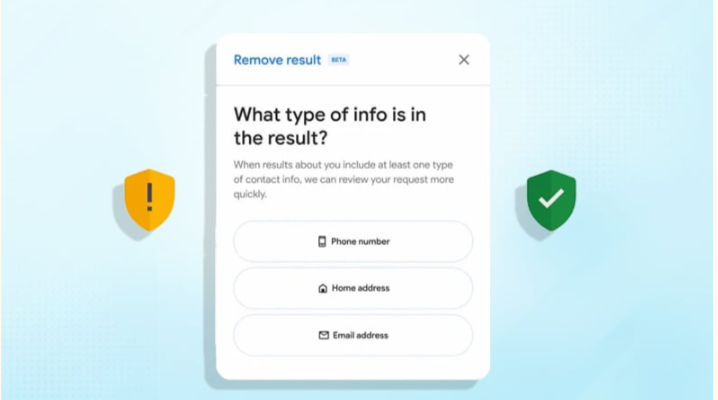 Results About You
Introduced in 2022, a new feature lets you track any personal details that pop up in a search result so that you can ask Google to remove them. Courtesy of a new update, the Results About You dashboard will not only help you find those details, but also lets you request that they be removed via the same tool.
"Most of our information is not easily accessible, but private data can reach the general public through 3rd parties who gather your information. When certain 3rd party agencies gather your data to offer their services, they internalize the data with your customer profile. Unfortunately, this information can sometimes leak from these sites and be listed on general websites.
These websites allow average users to access information about you that should never be made available to others. Even more disturbing is that this information can be located via a standard Google search. Fortunately, Google has taken measures to help you protect your private information.
Google has recently launched a new function in the search engine, the "Results About You" function. The introduction of this setting has enabled people to control the information available to average users. Through this curation of Google results, it is possible to protect your data from being abused."
While this tool is extremely useful, it is also very new, which makes using it a little more complicated. Once you understand how to operate Google's new tool, you should find your information is more secure than ever before."
Request the Removal of Personal Information
Last year, Google launched a tool called "Results About You? That allows users to request the removal of their personal contact information from search results, including phone numbers, home addresses and email addresses (August 3, 2023).
How Long Does Google Removal Request Last?
After you finish submitting your request, you can keep track of its progress in Google Search Console. But how long does it take for Google to remove outdated content upon request? Typically, these requests take about 24 hours to process. You can keep track of your request to see where it's at in the process.
Timeframe for Outdated Content Removal
Google tries to process removal requests within 24-48 hours. However, it can take up to 3 months for Google to remove outdated information fully.
What Does Google Do With Private Information?
Google uses the data they collect to customize their services for users, including recommendations, personalized content, and customized search results. For example, Security Check-Up provides tips adapted to how to use Google products.
How To Permanently Remove Myself from Google Search?
If you are browsing the net and all of a sudden a whole bunch of your private information comes up that you knew nothing about, guess what, there may be a way to remedy this dilemma, without jeopardizing your professional image.
I've found information about my past history that had been skewed and was blatantly false. To be frank, it was laughable. If you've experienced anything of those nature, now is time to fight back and set the records straight.
Google comes to the rescue and has provided an oasis in the dessert. Let's dive in to see what Google is up to. To break it down piece by piece I have created a FAQ-like template for your convenience.
How to Remove Your Information from People Search Sites
1. Check to see which sites have your information. You may want to look for your information on some popular websites.
2. Find the Opt-Out pages
3. Submit the Opt-Out request
How Do You Delete all the Information Google Knows About You?
Delete activity by date or product
On your computer, go to myactivity.google.com.
Scroll down to your activity.
Filter your activity. You can filter by both date and product at the same time. …
Delete activity. To delete all activity, you filtered for: Next to the search bar, select DELETE
Does Google Keep Your Information Private?
Google respects your privacy. They access your private content only when they have your permission or are required to by law. With the Google Transparency Report, they share data about the policies and actions of governments and corporations that affect privacy, security, and access to information.
Can Anyone See My Google Search History?
Private investigators, law enforcement, and government officials can see your search history by asking your Internet Service Providers for your browsing data. This browser data is often collected by the government when wanting to prevent a crime or track criminal activity.
Why Does Google Sell My Personal Information?
Under the General Data Protection Regulation (GDPR), the company does not merely process personal data to provide the service to the customer (that is, the site using Google Ads). Google can use the data for its own purposes, which include powering its advertising services, developing new products, and training AI models.`
How to Remove Your Information From People Search Sites
Check to See Which Sites Have Your Information. You may want to look for your information on some popular people search websites.
Find the Opt-Out Pages.
Submit the Opt-Out Request.
Repeat the Process and Continue Monitoring.
Delete Activity by Date or Product
On your computer, go to myactivity.google.com.
Scroll down to your activity.
Filter your activity. You can filter by both date and product at the same time. …
Delete activity. To delete all activity that you filtered: Next to the search bar, select Delete.
Step 1: Locate Your Search Results
First, access the "Results About You" page
In the Google app, log in and click your Google Account avatar.
Select "Results about you."
For desktop or mobile web, log in, click your Google Account avatar, then go to "Manage your Google Account" > "Data & privacy" > "History settings" > "My Activity" > "Other activity." From there, select "Manage results about you."
The Results About You tool allows you to remove results that contain your:
Phone Number
Home Address
E-Mail Address
Next, provide your name and the contact information you want to locate in search results. Google will use this information to perform the search.
Step 2: Review Your Results
If you have notifications enabled, you'll receive a notification within a few hours if any search results match your name and personal contact info. Alternatively, check directly from the "Results about you" page under the "Results to review" tab.
You can click on a result to learn more about it, including the website it's from and the contact info it contains.
Step 3: Request Removal of Unwanted Results
If you find a result you'd like to keep private, request its removal from search results:
To remove multiple results, select the checkboxes next to each and then click "Request to remove."
For a single result, select it to expand and then click "Request to remove."
Google may preserve certain results that are valuable to the public, such as government or educational websites.
Removing Results Using Google Search
To remove results directly from Google Search:
Log in with your Google Account.
Search for your name.
Click "More" to access the "About this result" panel.
Select "Remove result" and follow the reporting process.
You'll receive email confirmation and can monitor the status of your requests.
According to the latest statistics, this information can compromise your safety and allow unsavory individuals who might abuse your contact information for personal gain to access it.
This personally identifiable information is extremely sensitive and can allow cybercriminals to do damage (reputation.ca). Examples include:
· Social security numbers for U.S. citizens
· Bank account numbers
· Credit card number
· Images of your handwritten signatures
· Driver's license
· Passwords
· Passports
· Medical records, etc