Does Affiliate Marketing Work?
I came across this article on Affiliate Marketing. This is not written by me, but I wanted to share it because he explains Affiliate Marketing very well.
Affiliate marketing is being "mis pronounced" these days by many marketers.  Companies that are not affiliate marketing are calling themselves affiliate marketing and companies that actually are affiliate marketing are you using very confusing language as to what they are and how they operate.
Because of this unneeded complexity and confusion, I am going to spend a few minutes explaining how affiliate marketing works.  Only what you need to know.
First, What is an Affiliate?
An affiliate can be anyone.  You are an affiliate.  I am an affiliate.   But you don't become an affiliate of anything online until you join what are called affiliate programs.  There are 10,000's of these programs out there that allow you to promote milllions of products.
Yes.  You read that right. YOU can promote millions of different products online as an affiliate.  No inventory, no dealing with support, no shipping, no disgruntled customers, no overhead.
How Does an Affilaite Earn a Commission?
There are a few steps that it takes for you to earn a commission ($$) as an affiliate.  The first step is you having a website.  Without a website, you are typically a dead duck in the affiliate marketing world.  Your website is your business and it is where you can communicate with people across many diffferent niches and industries.
Once you start getting traffic to your site (people), you can promote relevant products/services to them through affiliate programs.  Like I mentioned there are 10,000's of such programs out there that allow you to promote millions of products.
As an example, if you join Amazon Associates (Amazon's affiliate program), it opens your doors to 100's of MILLIONS of products you can promote. Pretty much every product on Amazon you can promote and earn a 2-10% commission (depending on the actual product).
After you join the Affiliate Program, you are given special links that are unique to you and only you.    You then add these links to your website, and when someone clicks those links and buy something, you earn money.   Simple as that.
For example, if I were to sell Dyson's latest "supersonic" hair dryer, which cost around $510, I would earn 6% commission on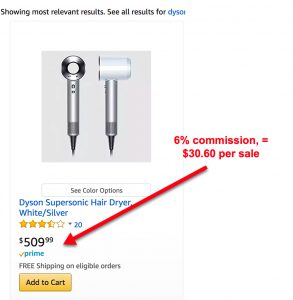 that.  That is around $30 per sale.
That is ONE sale.  Imagine making 10 sales like this per day, or even 100.  You get the idea here, affiliate marketing can lead to a significant income.
There are millions of Amazon affiliates alone, many of whom are full time online driving sales to their site simply referring their website visitors to their amazon affiliate links.   Whether your website is about weight loss, dieting, making money, hair dryers, skin care, or drones (could be anything), there is a vaiable opportunity as an affiliate marketer.
Why Do Companies Want You as an Affiliate?
The simple reason. They want to make more money.  By allowing you and I and MILLIONS of other people to become affiliates, they can earn a lot more money as a business.  Instead of hiring a marketing team and paying them a salary which can be very expensive and not always get a guaranteed ROI, they decide to recruit affiliates (Iike you and I) and pay them a "cut" on the revenue they generate.
You don't earn money, unless you are driving sales to their business.  They don't lose money by having to hire you as a full time employee.  So it is a win/win scenario.
Where Do You Find Affiliate Programs?
There are many different places you can go to find affiliate programs.  Oe of the most common places to find affiliate programs is through a Google Search.
Depending on the product or category in which you are looking for an affiliate program, you would simply type a search into Google like this.
product + affiliate program
For example, if I was looking to become an affiliate for "hair dryers", I would type in:
hair dryer + affiliate program
This will almost certainly yield several results.  But there is also another way in which you can find affilaite programs and that is through Affiliate Networks.
Affiliate Networks are exactly how they sound, a network of several affiliate programs all under one roof.  For example, an affiliate network like Awin.com has over 6,000 merchants that you can join from ONE affiliate program.
You only have to manage ONE login and you get paid from one company in a consolidated check, as an affiliate (and that would be Awin).
That is advantageous as an affiliate as you can join one affiliate network and have access to 1,000's of companies to promote and it is advantageous to a company to join these as they will have a larger pool of affilaites to work with and they won't have to worry about the technical aspects of operating their own in house affiliate program.
Here are some of the more popular affiliate networks:
Those are to name a few.  If you join any one of those you can quickly gain access to a large pool of products/services/companies that you can promote as an affiliate.
How Much Can I Earn as An Affiiliate?
Well, that is up to you, not me.  What I can tell you is that the potential really doesn't have any limits as to what you can achieve as an affiliate.  If you want to earn $1,000 per year and you would be happy with that, that is what you can earn.
But the potential is much higher.  You can earn $100,000's per year, or even 7 figures yearly solely as an affiliate marketer.
Let's do a little breakdown based on the $30 Dyson hair dryer example I provided above to show how many hair dryers you would need to sell in order to meet certain income volumes.
1 Dyson hair dryer sale per day, $30 x 365 = $10,950 per year
2 Dyson hair dryers sale per day, $30 x 365 = $21,900 per year
5 Dyson hair dryers sale per day, $30 x 365 = $54,750 per year
10 Dyson hair dryers sale per day, $30 x 365 = $109,500 per year
100 Dyson hair dryers sale per day, $30 x 365 = $1,095,0000 per year
That should give you a pretty good idea of how much potential there is.  If you had a site dedicated to women's hair, you could quite possibly hit 100 sales per day on many ocassions, as well as be promoting 100's of other products/services on your website with time.
Affiliate marketing is a big deal, if done right. I hope this has given you a good deal of perspective as to how it works!
If you have any questions about affiliate marketing or how to build out successful affiliate marketing campaigns, drop them below in the comments area.  I have been at this for MANY years and I would be more than happy to point you in the right direction.
My favorite Affiliate Marketing program is called Wealthy Affiliate.  I encourage you to take a look at it. It's free to start.